Monday, October 30, 2006
On His 271st Birthday ...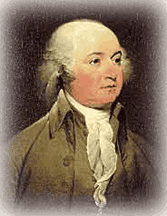 John Adams said, "In my many years I have come to a conclusion that one useless man is a shame, two is a law firm, and three or more is a congress."
Source
Heh heh. A most worthy read may be had
H E R E
.
|
Link
|
Speaking:

Podcast:

Books:

The following links do not necessarily indicate endorsement of content.

Orthodox Blogs, Etc Orthodox Resources Religious News/Blogs Etc.

Archives